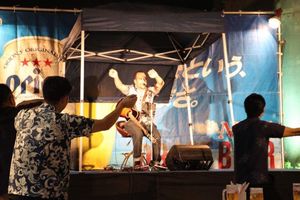 KINJO BROTHERs
It wasn't until a trip returning to their father's home-land of Okinawa in southern Japan as adults that Jory and Kaley Kinjo joined their musical forces on stage. Walking into every live music venue they could find a spark was lit and the Kinjo Brothers came to life!  Since their inception, the brothers have performed in live music venues and festivals across Canada and have returned to Southern Japan many times to perform, including a performance as a featured artist on the RBC stage during the Naha Matsuri in 2012 which was live broadcast across Okinawa on television and radio to an Island-wide audience. As well, in 2016 The Kinjo Bros were invited to perform at the 6th Worldwide Uchinanchu Festival in Okinawa with popular group "Diamantes".  Kaley now currently resides partly in Japan and has collaborated with popular Japanese artists Alberto Shiroma, Diamantes, and Kazufumi Miyazawa.  The Kinjo Brothers perform in Japan regularly and are currently working on an album of English versions of popular Okinawan songs.  
THE OKINAWAN CONNECTION
Okinawa is a sub-tropical island in Southern Japan that was an independent sovereign state known as the Ryukyu Dynasty until the mid 1800's.  Okinawa is most well known for developing martial arts like Karate, as well as for its distinct dialect, art, music, beautiful beaches and nature, food, longevity and lastly sadly its tragic role in World War II and the impact that has had on the following generations there. 
In the late 1800's my great, great Grandfather emigrated from the island of Okinawa to Canada with his 3 sons during a Japanese initiative exporting labor to many countries around the world after Japan had opened its borders. Him and his family made their way from Vancouver to Hardieville, in Southern Alberta.  My Grandfather was born in Hardieville, AB and his family moved back to Okinawa when he was 6 years old.  My Grandfather's Mother learned how to bake bread in Alberta and eventually taught my Grandfather, who took this skill back to Okinawa where he developed a successful bakery there that has been in operation since 1952. 
Today there are still large groups of Okinawan Kenjinkai around the world but particularly in Brazil, Peru, Argentina, Canada, Hawaii, and other parts of the US.  The World Uchinanchu Festival happens once every 5 years in Okinawa, the next one will happen in October 2021.